Maintenance Planner:
Bring down your maintenance costs
Bring down your maintenance costs
Are your maintenance costs getting out of control, and have you lost track of the maintenance of your machines? Then you're not alone. It is a typical challenge that we've seen numerous times with our customers. Downtime is increased due to sudden machine breakdowns, and the production is slowed and reduced – but now it's time to tackle the challenge!
Maintenance over repair jobs
We have often met technical operators that have expressed discontent because they failed to notice the beginning damage early on. They are negatively surprised when they see the scope and price of the damage, and it had been cheaper if they had prioritized maintenance over repair jobs.
Before, numerous inspections and service checks were necessary to catch the errors early and avoid machine breakdowns – now all it takes is a Maintenance planner.
If you give part of your responsibility to Maintenance Planner, you'll quickly discover that there are savings to be made. Only part of the responsibility? Yes… Maintenance planner is an online platform that tells you when to do maintenance, which machines to look through and what to check, what to be aware of and what to take notice of, but you and your technicians will of course still have to do the maintenance tasks yourselves.
How does Maintenance Planner bring down your maintenance costs?
Our Maintenance Planner tells you where you need to do maintenance and who needs to do it. The person in question automatically gets a digital checklist with the necessary service tasks. The same person can then upload pictures and notes from the scene directly into the system. Inside the system, both the operator and the manager can access previously submitted maintenance checklists and thereby keep track of the condition of the machines.
Insight is the key to reducing breakdowns and with the Maintenance Planner you can catch the errors early on, thereby avoiding downtime and lost production time. Downtime is responsible for a lot of lost turnover and often happens when machines suddenly break down. The reason for it needs to be identified and dealt with before the machine can get back to production. If you do maintenance continuously, you can avoid this by handling the errors before they occur.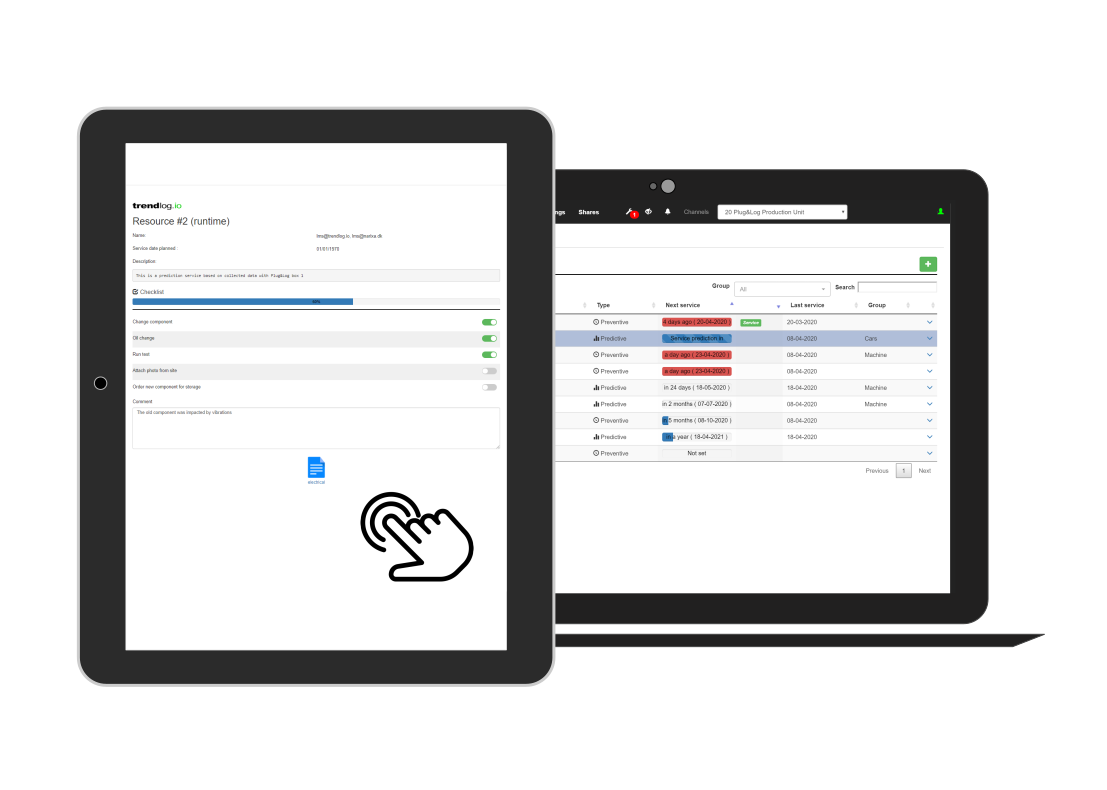 Maintenance Planner gives you:
Systemized maintenance
Automatic reminder and checklist with service tasks
Follow-ups on earlier service visits
Forecasts based on data
Direct access to machine status on the Trendlog platform
Cost savings on maintenance
Fewer sudden machine breakdowns
Maintenance Planner requires neither technical skills nor long to-do lists or much experience. The only thing you need is a smartphone, computer or tablet, the alarm will sound and the checklist will be sent, when it is time to do maintenance.
Read more about the Maintenance Planner here and learn more about the functions and your potential cost reduction in our case story with the vegetable producer Axel Månsson.
5 tips to streamline the data across the production plant.
What are the solutions to manufacturing's biggest challenges? Read more here.
Is it possible to keep an eye on 200 machines while reducing the number of times they need to be replaced? Yes, you can, and Axel Månsson A/S has proven it.