Trendlog Collect
Plug & play data collectors to digitize your production monitoring
Start collecting data today
Trendlog Collect can be easily installed on both machines and robots without the risk of downtime for the installation. You can track the production output, register stop causes, and use these insights to reduce downtime and optimize OEE. Start your data collection today and let us help you with the installation and setup.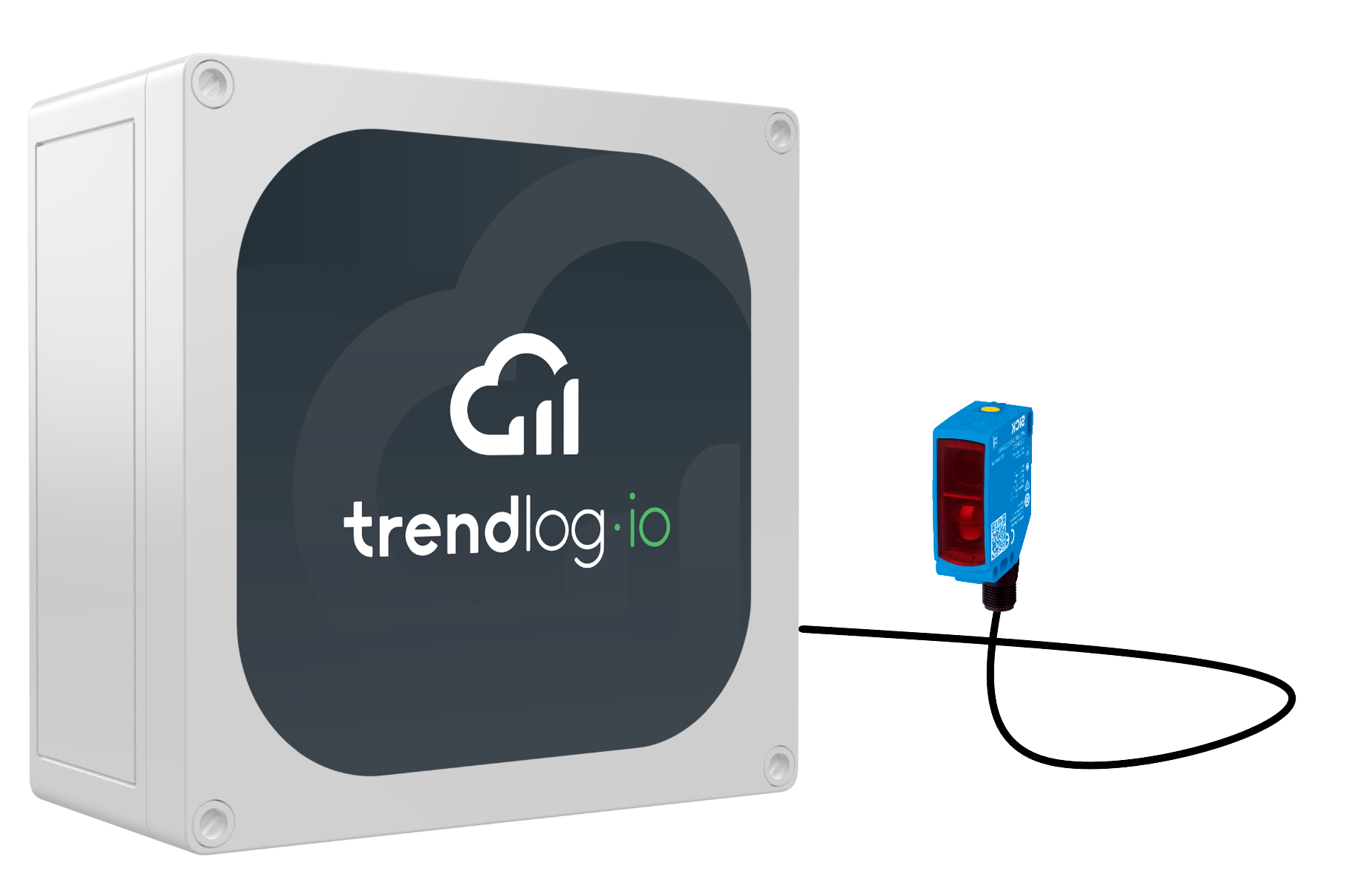 Key features
Performance and runtime data from machines & equipment

Installed in less than 30 minutes

Compatible with several proximity and photoelectric sensors

H: 182mm W: 180mm L: 90mm

230VAC

For advanced users: Programable for extended functions
Supports PLC, NodeRed, and more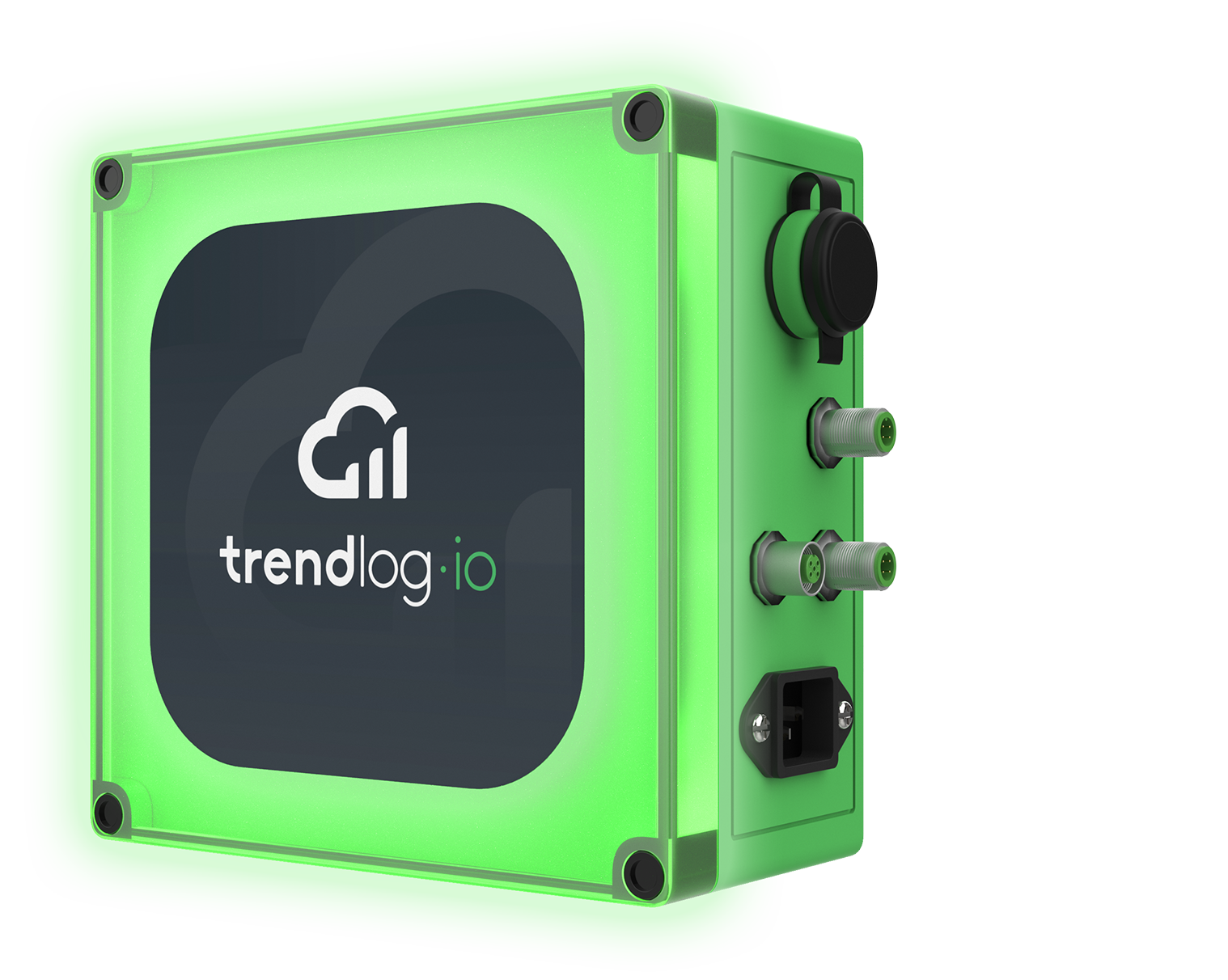 Key features
Plug & Play
LED LIVE indicator
Industry 4.0 ready
Digital & analog inputs/signals
230 VAC
Ethernet, WiFi or 4G
In-box data buffer
W: 180 x H: 182 x L: 90 mm
For advanced users: Programable for extended functions
Supports PLC, Node-RED, and more
Standard:
Both our Trendlog Collect boxes are programmed to read data from photocells (located so they can detect movement of items/products) and operating signals (for example from power supply or light tower/start-stop signal).
The advantage of using the standard setup is that they are placed at each machine, without the need for cabling around the factory. It does not need to be built into the switchboard, as it has a built-in power supply and in addition it can be connected to the Internet via both Ethernet and WiFi. Trendlog Collect is plug & play and can be installed by the local electricians in no time.
Advanced:
The boxes have a programmable interface, which can be used, to collect data from extender modules on the production equipment (for example Moxa or other I/O) via Node-RED).
The advantages of the advanced settings are that extender modules can be built into switchboards and "stored away". In addition, one can directly access PLCs or, for example, flow meter data, and the box acts as a buffer for data if there is no instant Cloud access. But it requires advanced knowledge of programming.
The brand-new Trendlog Collect i4.0
The new and smart Trendlog Collect 2.0 or Trendlog Collect i4.0, that collects data insights in real time, is easy to retrofit on machines & robots. The data collector has built-in power, an input/output module and a small computer which makes the box plug & play as well as stand-alone.
Trendlog Collect i4.0 is also featured with an on-site LED indicator that can show you the LIVE status of the machine or robot. Contact us to find out more about Trendlog Collect i4.0 and production monitoring in general.
Where can you collect data from?
Trendlog Collect is a series of plug & play data collectors that makes it easy to visualize your production performance, OEE and hidden optimization potential. The box solution is retrofitted easily on your production equipment, and is an easy way to digitize your production and maintenance monitoring. You can collect data from:
Conveyors and production lines

Extrusion and injection mold (plastics)

Packaging and palletizing machines

Temperatures and humidity levels

Consumption submeters 

And much more
Become a member of Club Trendlog
Production Tracking
Assemble an overview with the collected data, and uncover your hidden potential
Production Tracking
Assemble an overview with the collected data, and uncover your hidden potential